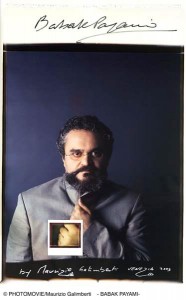 Babak Payami was born in Tehran in 1966.  He grew up in Iran and Afghanistan before leaving for Europe and subsequently Canada, where he became a citizen.  He studied in the Cinema Studies program at the University of Toronto during the early 90′s, while working as a translator and court interpreter.
In 1998, Payami returned to Iran where he wrote, produced, and directed his debut feature film "One More Day".   It premiered in the official Panorama Special program of the Berlin International Film Festival 2000.   He later wrote, directed, and co-produced with Marco Mueller, his second feature film "Secret Ballot" which went on to compete in the official program of the Venice International Film Festival in 2001.  The film earned him several accolades in Venice, including the Best Director award.
In 2002 Payami began production on "Silence Between Two Thoughts" which he wrote, directed, and produced in remote areas of eastern Iran close to the borders of Afghanistan and Pakistan.   All original material for Silence Between Two Thoughts was confiscated by the Iranian government and Babak Payami was forced into exile in the summer of 2003.
Payami has taught at the Ludwigsburg Film Academy in Germany and conducted numerous workshops in Italy and North America.  He was the creative director of the Media Studio at Fabrica, a United Colors of Benetton Communication Arts research centre in Italy. During his tenure at Fabrica he produced several projects including "I Am Jesus" and "Branding Kosovo". He directed "Birima" a music video featuring Patti Smith and Youssou N'dour to promote a micro-credit bank established in Senegal by Benetton and Youss N'dour.
In 2010 he established Payam Entertainment in collaborations with Iranian musician, composer and performer Mohsen Namjoo.  Payami produced several concerts for Namjoo at the Los Angeles Disney Hall, Toronto Sony Centre and the Milan Conservatory and Namjoo's albums "OY" in 2009 (a Fabrica Production), "Useless Kisses" in 2010 (A Payam Ent. Inc. Production) and "Alaki" in 2011 (A Payam Ent. Inc. Production) and "OY Live in Milan DVD" (A Fabrica/Payam Ent. Inc. co-production). Payami collaborates with Canadian rock band Blurred Vision and producer Terry Brown.
Payami recently directed and co-produced "Manhattan Undying", a feature film starring Luke Grimes and Sarah Roemer due to be released in 2015.  He is also co-director of "Iqbal, The tale of a fearless child", a full-length animated feature currently in production.
The Imagisti Creative Studio is the convergence of Payami's work as an independent artist. Based in Toronto, Imagisti is a hub for young creative talent offering a unique array of acting and directing training classes, film and music production workshops and artist coaching and branding programs.
Click HERE for Babak Payami's filmography